Get the latest release! Boozehounds and Ball Drops is out now!
As the town of Mystic's End prepares for its annual holiday celebration, Fortuna is excited for a respite from the drama. Sure, Pepper still thinks there's corruption around every corner. Yes, Martin's still trying to convince her to go out with him. And, okay, Gabe is sulking a little while coming to terms with Miss Bessie's secret.
But it's nothing a little turkey, egg nog and caroling can't fix, right? (more…)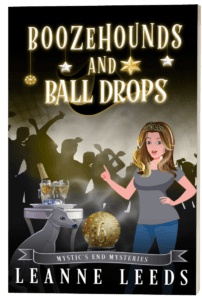 The Owl Star Witch Mysteries
When Astra Arden returns home from Imperatorial City after being laid off from her job with the military as a fugitive witch tracker, she's not sure what to do with herself. Luckily, the goddess Athena sends her a wise-cracking owl with a light to guide the way.
New Series Coming in 2021!
View Series
Mystic's End Mysteries
When Fortuna Delphi moves to Mystic's End to open an art studio, she hopes that she can leave the chaos of the paranormal world behind for the peace and tranquility of a small town. A telepathic greyhound, a mohawked ghost, and a crazy old lady later and the new witch's new life has more twists and turns than an Escher painting.
Series finale book in March 2021!
View Series
Magical Midway Paranormal Cozy Mysteries
The sudden appearance of a glowing cat can only mean one thing—a magical ringmaster has died and the circus needs a new leader. When Charlotte Astley steps right up to take over the family circus, she doesn't realize the world of supernatural problems she inherited—along with the snarky, judgmental talking cat.
Read the whole series now!
View Series