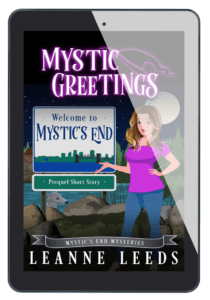 She wanted to get away from the paranormal. Did she wake it up instead?
When Witch Fortuna Delphi visits Mystic's End for the first time, she's sure the quaint non-paranormal town will make a splendid home. But when the Christmas Festival in the town square goes off the rails, Fortuna wonders if everything about Mystic's End is what it seems.
Enjoy this brief crossover short story that takes place in between the Magical Midway series and the Mystic's End series.
Join Leanne's Mailing list and you'll get the Mystic Greetings short story free!