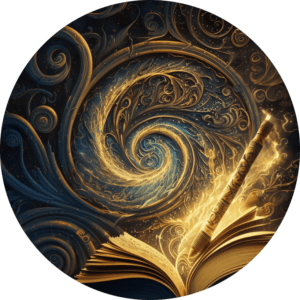 Okay, I lied. The last post wasn't the final post.
It's been a few months since I delved into AI, and I've branched out from just using Sudowrite into trying some other tools, so I thought I'd give an update.
I still use it, but not nearly as much as I used to. It's much more useful at the beginning of a book than in the muddy middle or ending, but it's also really dedicated to what it knows—and I sense it didn't read a whole lot of funny books.
Describe tends to produce sentences and descriptions that are more flowery, metaphoric, and serious. Since my writing tends toward concise (I aim for easy reading) and funny, quippy, and so on, it produces things that don't fit with how I write more than I'd like it to.
I also don't tend to get writer's block—sorry—so it's not as useful to me. I do still subscribe to it and will continue to keep it around, but other tools have moved into the "it girl" position.
I'd love to see checkboxes that give the AI direction – simple, descriptive, non-descriptive, dialog, first-person, past-tense, and so on. I know Sudowrite is still in Beta, and I know there are text directives I could give it that would probably produce better suggestions—but honestly, I'm not that patient. I don't want to learn a new tool's language. I just want it to do what I want it to do simply, easily, and without a whole lot of curve on my part. I think for some styles of writing, though, this would work great.
Quillbot
Quillbot is probably my current it girl. I have Quillbot Premium, though I barely use it at the length allowed. Quillbot is a paraphrasing tool that utilizes machine learning and ai to rewrite the text. It has multiple modes, but the one I use the most is Fluency. Fluency mode is used to fix grammatical mistakes and punctuation and doesn't modify the meaning of what you give it much at all—I gotta tell ya, this thing is top-notch at whacking out passive sentences.
Yes, Grammarly does that and I do have Grammarly Pro. But I find Quillbot's sentences have a much better flow than anything "corrected" by Grammarly. Its phrase and word thesaurus options are great.
The tool itself is very easy to work with. You can edit what it gives you in the app, click a button to copy the whole thing or individual sentences, and it shows you which parts have thesaurus-like options. The learning curve is almost non-existent.
Cons? Dialog can confuse the hell out of it.
This has helped me get the first rough draft down fast because I don't have to stop and find a way to say something in a new way every time. My character can look up ten times in a chapter and I can edit/change it later with Quillbot super fast to say that ten different ways.
Copy.ai and Jarvis.ai
So, I tried both, and went with Copy.ai. Fair warning, both of these things are targeted to marketers and as such, these two tools are pretty damn expensive. I think they're direct competitors and so more or less the same things, but I have to tell you—Jarvis.ai just made my head hurt. I never could quite comprehend how to make it work for me, whereas Copy.ai was easy to understand, and had obvious "duh" buttons.
I like "duh" buttons.
I have used Copy.ai to rewrite my own author blurb, Facebook ad blurbs, and they've performed well. It has a sentence rewriter a la Quillbot, but I prefer Quillbot's robust options.
I just logged in to this one yesterday, and I can't say much about it's use yet other than I found the interface easy to understand, and that Paul Bellows has done an awesome amount of work. If you write fantasy of any kind, you have to give this a look.
I'll probably give it its own blog post here in a few weeks.